Our innovative low energy rainwater harvesting system, specified to
nearly all customers when a small header tank can be situated in a loft
space.
The system works by pumping from the underground tank, through a control unit, into a Smart Header Tank within the loft space. Water is then gravity fed to toilets and washing machines.
The Rain Director® has huge benefits over traditional systems. Most systems start and stop the pump every time the toilet is flushed, meaning the pump cycles 15-20 times per day.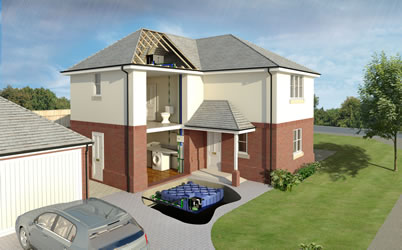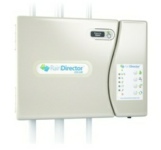 The Rain Director® uses 6-8 times less energy than a traditional system by completely filling the Smart Header Tank, then not using the pump again until the Smart Header Tank is empty.
This reduces pump cycles to around 1-2 per day, and therefore greatly reduces energy consumption and pump ware. Should rainwater ever run low in the underground tank, the system automatically registers and delivers mains water directly to the Smart Header Tank.
This means your toilets will work in every eventuality- low rainwater, pump failure or even power cut. The system also features intelligence such as a "Mains Water Mode" to divert the home onto mains water, so rainwater can be conserved for the garden if hosepipe bans are being introduced.
Unlike any other gravity feed system, the Rain Director® also features a "Holiday Mode" recycling the water in the loft space every 3 days to prevent stagnation.
• Low energy system 6-8 times less energy than other systems
• Provides water in every eventuality- low rainwater, pump failure or even power cut
• Fully WRAS Approved
• Intelligent user functions
• Prevents water quality issues/stagnation
• Reduces pump ware
• Silent operation
• Plumber friendly push-fit connections and installation guide