Description
What is The Rain Director?
The Rain Director is an innovative, multi award winning, rainwater management system that dramatically reduces the energy use and pump wear in comparison to traditional systems.
How does it work?
The Rain Director reduces energy by substantially reducing the number of times the pu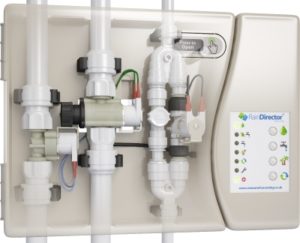 mp has to cycle (start then stop.)
Traditional systems cycle the pump every time rainwater is used or a toilet is flushed. This means the pump cycles 15-20 times per day in the average home.
The Rain Director reduces pump cycles to 1-2 times per day by batch filling a header tank in a loft space, then gravity feeding appliances.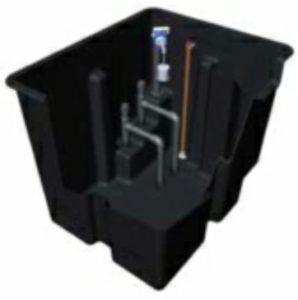 The Smart Header Tank contains two level sensors, top and bottom. Rainwater is filled to the top sensor, triggering a valve to stop the flow. The pump then does not function until the water level hits the lower sensor when the header tank is nearly empty. Virtually all of the water is used within the smart header tank before the pump is used again.
The savings are huge, the system uses 6-8 times less energy than a traditional system. In fact the system is so economical it can half your water bills with running costs at less than 1p per person per day.
Why The Rain Director?
From its conception the Rain Director has been packed full of smart features that set it apart from anything else on the market. Aside from large energy savings, these include;
Automatic mains water backup. Failsafe water to appliances in low rainfall periods, pump failure or even power cut.
Intelligent user functionality, divert your home on to mains water to save rainwater for the garden during a hosepipe ban.
Auto Refresh cycles water in the header tank every 3 days if no use is detected, eradicating any chance of water quality issues.
Stylish, easy to use control panel.
Plumber friendly install. Entirely push fit connections with easy to follow illustrated instructions.
Fully WRAS approved 1505033
Winner of multiple awards
British made.
Our verdict: The best rainwater harvesting management system money can buy. We advise installing the Rain Director in virtually all cases."