Description
3P Filter Collector, Rainwater Diverter & Filter.This affordable and high quality filter is a must for rainharvesters.
DO IT YOURSELF INSTALLATION. Features an automatic overflow and removable filter and is very easy to install on UK size drain pipes. This filter is easy to install and maintain. Use this fi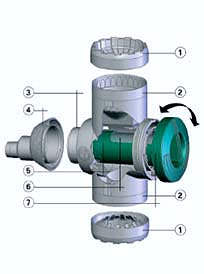 lter when debris and overflow water will exit down drainpipe – eg roof under trees. It is adaptable to nearly all downpipes between 65-110mm diameter.
Rainwater flows from the filter entrance into the filter cartridge where debris is forced to the sides and on down the drainpipe. Filtered water flows out of cartridge to tank inlet. Flow settings for either summer or winter. Removable cartridge for cleaning.
Fits typical UK plastic or iron downpipes of 75mm and 110mm (Fits minimum 65 mm square, 68mm round drain pipes).
For roof areas up to 70 m sq and helps elimate sludge in storage tanks joints so watering cans and sprinkler nozzles will not clog and there is less likelihood of odour.
RWH-WTFC connector kit not provided, to select please choose yes above.