Description
Rainwater Harvesting Filter for inline filtration of rainwater in tanks both above and below ground. Compact design DN 100 and suitable for 150m2 roof water collection. Rainwater Harvesting Compact Filter operation
How it works
Rainwater is led onto the filter cartridge.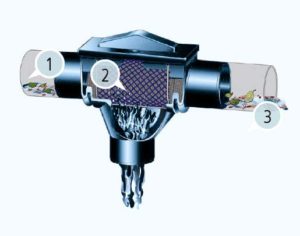 The filter cartridge cleans the rainwater. The cleaned rainwater is led through the calmed flow inlet into the rainwater tank.
Because of the smooth surface structure of the filter the dirt is quickly rinsed away into the sewer.
Needs regular inspection for debris build up in high volume or leaf dropping areas.
Technical Data Compact Filter Dimensions
Filter according to DIN 1989-2, Typ C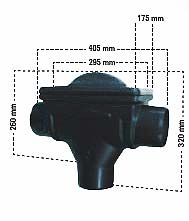 Connection inlet: DN 100
Outlet into tank: DN 100
Outlet into sewer: DN 100
Height difference between rainwater inlet and outlet 0 mm.
Housing material: Polyethylene
Filter cartridge: Stainless steel 1.4301
Material Poly-Net: Polyethylen
Mesh size: 0,7 x 1,7 mm
Weight: 1,4 kg
Colour Black