Description
Filter rainwater with Gutter Mate – the low cost filtration system for household use. Divert and filter rain water before it goes in the water butt.Buy the HydroForce pump and get this filter free
The only rain water diverter and rain water saver which diverts and filters the water before it goes in the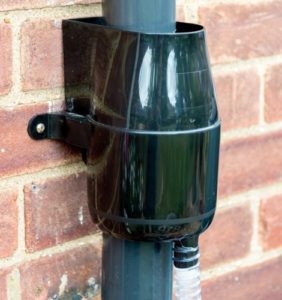 water butt. Redesigned for 2012 the new guttermate features an automatic cut off for when the water butt is full.
Cleaning the filter is a 30 second job. No physical effort or tools needed.
Many standard water diverters do not filter the water and block very easily. When blocked it is not an easy job to open up the diverter to clean it out.
Gutter Mate Benefits
The water saver starts the water conservation process for the following activities:
Watering Garden
Washing Car
Garden Pond
Rain Water Harvesting
Standard diverters have the following disadvantages:
No capacity to collect debris
Allows debris into tub
Difficult to clear, Gutter Mate takes 30 seconds
Blocks very easily
Material not UV stabilised
Part of the Eco Homes specification now states you should have a means of saving rain water. The filter can also be part of a rain water harvesting systems.
Debris Filter
Initially this unit was designed to address the problem which most households have at some time or other – blocked rain water gutters.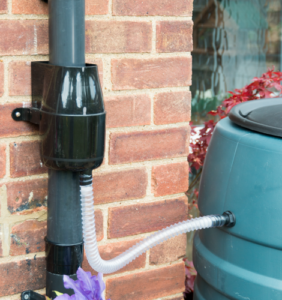 The main reason for blocked gutters is either installers or householders fit a balloon/bell-type strainer in the top of the drainpipe. This prevents a large proportion of the debris which collects in the gutters from going down the drainpipe. The result is the gutters block and then overflow. This can cause damp walls and rotting roof joists. The weight of rain water in blocked gutters can sometimes collapse the guttering.
The Gutter Mate filter allows you to remove the Balloon strainer in the top of the drainpipe and then the rain water will wash the debris down the drainpipe into the filter. This works very effectively.
The filters have been in operation since the end of 2004 and to date they have worked as they were designed allowing the users to keep their feet on the ground and not on a ladder.
The Health and Safety Executive brought out new regulations in early 2006 with regard to working at heights, the essence of which was that if you can avoid working at heights on a ladder you should do so.
Soakaways and Drains
Are very easily blocked by leaves, moss and sand from the guttering.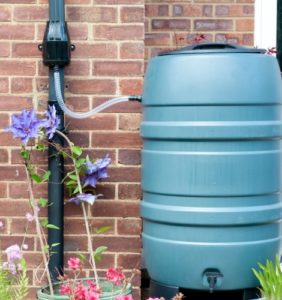 The filter prevents debris being washed down the drainpipe into the soakaway or drain. Blockages in either of these can be very expensive to fix relative to the cost of the filter. Expensive to dig out, if they are under your yard or lawn. If blocked could cause localised flooding.
The construction of the filter is in Polypropylene and is UV stabilised. It will have the same life as the drainpipe and will not fade due to sun light. The filter has had UV tests done by one of the largest guttering manufacturers in the country.